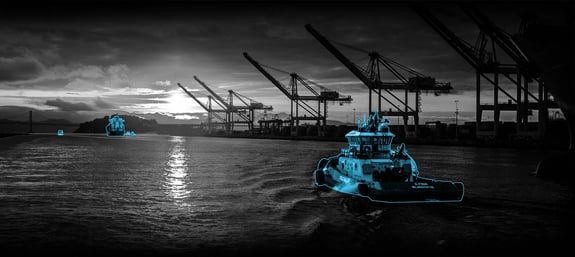 You don't know what you're missing
Automated 24/7 registration of all activity on the water
Can you register
everything?
Ports and waterways are critical routes for goods and people. Registration of all traffic is essential for safety and against crime. Ships can sail in and out unseen when there is no permanent supervision. Pleasure crafts, in particular, usually remain unseen, while this category is regularly involved in incidents and is used for illegal activities.
Disabled AIS
The AIS system on board professional shipping can be temporarily deactivated

Identification Features
Difficult to see custom features such as name, ID, or color of a vessel

Night traffic
In poor lighting, it becomes difficult to recognize smaller vessels, especially from a distance
Attention
It is impossible for humans, but certainly also for sensor-based systems, to register everything
SEAGULL shows the big picture
by using video cameras that survey an area from above and reliable artificial intelligence to automatically recognize all visible vessels
CHOOSE CRITICAL LOCATIONS
Let SEAGULL monitor shipping lanes, estuaries, coastlines, lakes, locks, and bridges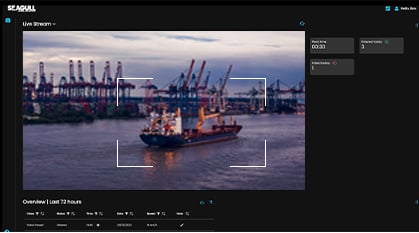 SET CUSTOM ALARMS
Configure when an alarm should be issued based on, for example, speed, type, and time.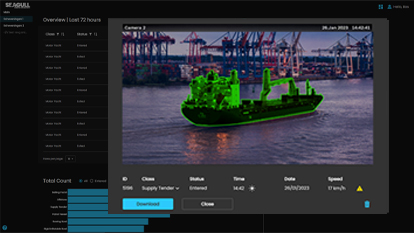 REFER TO THE LOGBOOK
Quickly look up incidents, or analyze trends and view the traffic density per connected camera.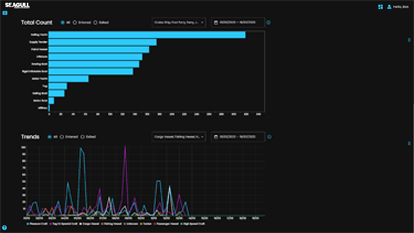 "Previously, our operators had to register all ships manually. We, therefore, needed a robust system to monitor our port, and with SEAGULL, we have achieved this. Thanks to SEAGULL, we are taking a future-proof and innovative step, allowing us to observe and register the entry and exit of all types of vessels more efficiently, save costs, and better identify risks."
We make it simple
SEAGULL is a cloud solution. No installation is required, and you can use existing camera setups.
1
Choose existing or install new cameras
SEAGULL works with any camera that surveys an area at a diagonal angle from an elevated position.
2
Enter the IP address of the cameras
Open up the configuration screen of Seagull and connect to your camera(s) by entering their IP address(es)
3
Define your areas of interest
Drag a box over the area you want to monitor, such as an area on the water or a shoreline of interest.
4
Define alerts for suspicious acts
Set speed limits or time windows per vessel type to receive alerts when incidents occur.
Ready to start?
Select Your Subscription
Start Now
from €625
from €499
24/7 automated registration
Measure speed, time and length
Reference image per registration
Do it yourself installation
Connect up to 5 cameras yourself.
Prices shown are exclusive of VAT, per camera per month.
Enterprise
Contact us!
Contact us!
Connect more than 5 cameras
Multiple simultaneous instances
+ All self-service features
Use Seagull at a larger scale or in custom situations,